Mr Vaibhav Jaguste
---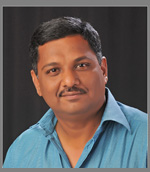 My Achievements in Photographic Field
| No. of AWARDS | |
| --- | --- |
| International Exhibitions | 23 |
| National Exhibitions | 46 |
| No. of Exhibits | |
| International Exhibitions | 216 |
| National Exhibitions | 410 |
Early life
---
Post Graduate in Science ( Mumbai University ).
Worked for a Multinational for 16 years.
After closure of the company, got in business with nation's top consumer firms like Dabur India Ltd., Perfetti Van Mellei Pvt Ltd. , Bajaj Consumer and Tata Telecom as a distributor.
During the same period, opened a firm named Sarita Travels , initially managed along with my brother.
With immediate success in car hire section, we split the firm into 2 , one being the car hire section and other being the All travel solution named Sarita Travel Solutions.
Passion and Extra curriculum
---
After securing the job in a Multinational , I travelled extensively in many parts of India.
I also trekked the beautiful Himalayan ranges like Everest Base Camp, Adi Kailas Om Parvat, Chandrakhani Pass to name a few.
Photography is my Passion since the early 90's.
My father bought me my first camera which was the Zenith 12XP for Rs.600/- in the mid 80's.
I have used the camera for all my trekking expeditions in the said period.
Affiliations in Photography
---
In 1999, I became the life member of India's premier photography club, Photographic Society of India.
I brought my first DSLR Nikon AF601AS and my passion started flourishing with great success.
My photographs got awarded at State and National level Photography Exhibitions.
Due to this success, our club honored me with APSI.
Federation of Indian Photography honored me with FFIP in Pictorial Photography.
When my images got exhibited in 18 different countries, the Federation of International De art Photography, France honored me with the AFIAP, and India International Photographic Council honored me with the prestigious AIIPC Gold.
Till date , more than 500 images are exhibited in National and International Exhibitions in Argentina, Serbia , USA , UK , Macedonia , Hungary, Belgium, Greece , Iran and Slovakia to name them. I have won 43 National Awards and 8 International Awards for my photographs
Summary of Achievements
---
In 1999, I became the life member of India's premier photography club, Photographic Society of India.
Best Photographer of the Year (Beginner)-2001
Best Photographer of the Year( Outing) -2009-10
Best Photograph of the year (Outing ) – 2009-10
Lalit Kala Academy , Lucknow - Portfolio selected
Honored with APSI distinction by Photo graphic Society of India.
Honored with FFIP Distinction by Federation of Indian Photography, Kolkata .
Honored with AIIPC by India International Photographic Council.(New Delhi)
Honored with AFIAP by Federation of International Art Photography, France.
Successfully exhibited two slide shows on Pictorial photography at Reputed auditorium.
Judged National level Photography competitions.